Cucumber time is over, and we've got some updates to kick-start the new event season! Our development team worked very hard this summer to launch the following updates: flexible guest registration, a new marketing update to measure the conversion on your event website, and the possibility to create multiple checkpoints so you can keep track of your attendees even better.
Flexible guest registration: 1, 2 or 25 guests?
For years, you could already automate your guest registration in two (1 and 2) ways. But we added something extra! You can now determine how many guests each attendee can bring along. Let your invitees bring 1, your partners 2 and your VIPS 3 extra guests, for example. In the registration overview, you can see exactly how many invitees (and guests) are coming to your event and what guests and invitee come together.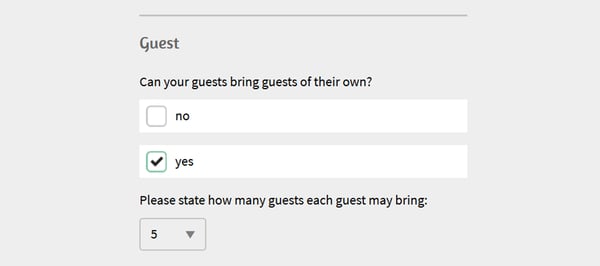 1. In step 1, set the maximum number of guests.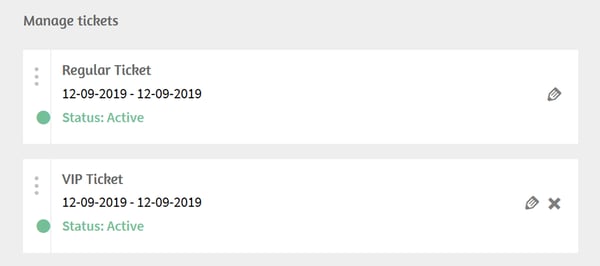 2. Next, create multiple tickets in the ticket module.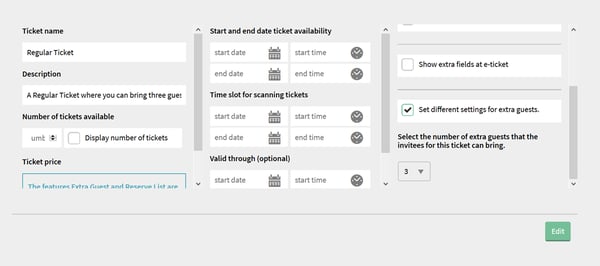 3. You can now determine the number of guests per ticket.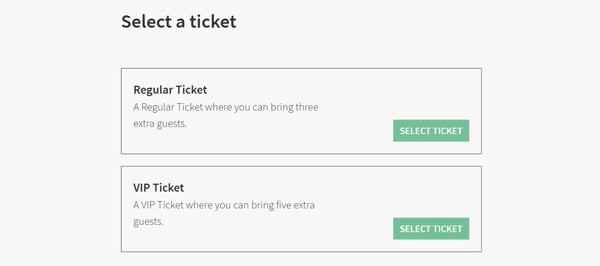 4. The invitee selects the ticket and adds the guests.
Group registration
This new feature can also be used for group registration. Do you want to give your invitees the opportunity to register as a group? It's up to you! Set the number of guests at 10, 15 or maybe even 25. That way, you only have to invite your contact and ask them how many guests they would like to invite. These guests can stay anonymous (only the number will show) or you can ask them for their personal data.
Measure the conversion of your marketing events
Since February, you can add your Google Analytics code to your event website for advanced statistics. We now also gave the confirmation page a separate URL, so you can measure the conversion from website visit to complete registration. The result? More valuable insights into the results of your marketing events.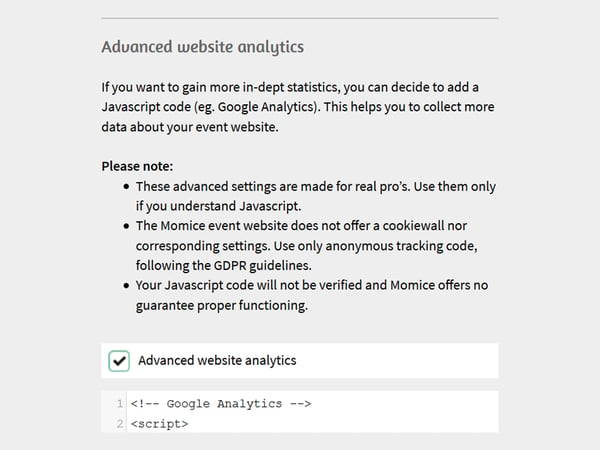 At stap 1, under the 'Marketing' tab, you can add the Javascript code.
Discover the customer event journey of your attendees
With this new update, you can keep track of your attendees even better. With the (free) Check-in app, you could already check attendees in and out of your event to see who is there and when they left. And now you can add multiple checkpoints to the Check-in app. Multiple workshops? Check in your attendee! You can see exactly what attendees have been scanned at the workshops in the export of the registration overview.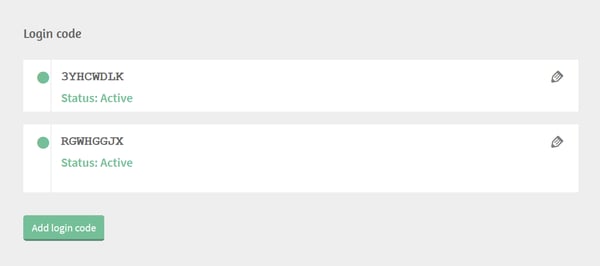 1. Create an extra login code easily in the ticket module.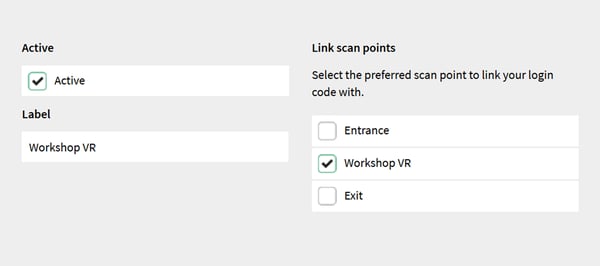 2. Link this code to any part of the programme.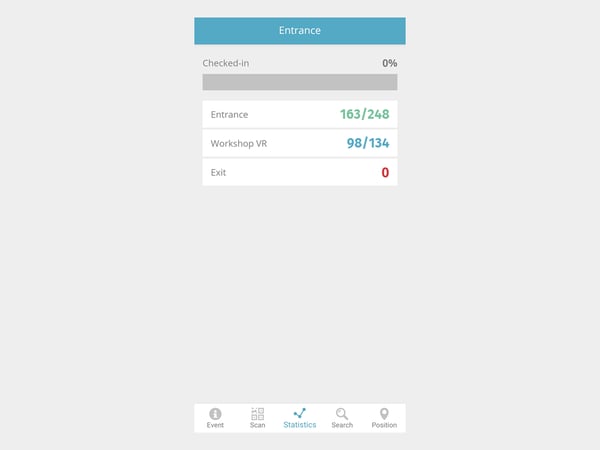 3. In the Check-in app, you will see an overview of the attendees per part of the programme.
Unique login code per location
You can create unique codes per location from the tool. Share the code with the host(ess) at that checkpoint, so they don't have to select the location in the Check-in app themselves.
Pro tip: at (small) conferences, you could even generate unique codes for each exhibitor so they can check in visitors of their stands. You can export the data in 3 seconds, which you can then share with your exhibitors.
We hope you like our new updates! Please visit our blog for more tips & ticks!