Endless possibilities. An overview of all features.
Momice makes the life of event professionals easy. Get started with making professional communication, automate the complete event registration, and take your events to the next level right away.
Momice has 6 modules: mail, registration, website, survey, tickets and statistics. Determine what features you want to use – and check them out below.
Event registration
Without the right software, event registration can be very time-consuming. Momice automates the entire event registration process with one user-friendly tool – including ticketing, workshop registration, attendee registration, guest list and waiting list.
Open or closed registration

For each event you can decide whether you open the registration page to everybody, by invitation only. Invitees can use the personal link or code in their email to register online.
Registration form
You can set up your own registration page in no-time. Momice offers various types of registration questions, specific for event registration – and linked to the registration overview.


E-tickets
Momice automatically attaches an e-ticket to the registration confirmation. To check in your attendees, use the Momice Check-in app to scan the QR-code with your smartphone. You can keep track of who is present at the event – and who is still expected.
Guest list
Networking is an important reason to attend an event. If you include a guest list in the event website you facilitate networking before, during and after the event. And of course, privacy is guaranteed.
Workshop registration
Automate (complex) workshop registration with Momice. Indicate the maximum number places and receive an email when the capacity is almost reached. The workshop registrations appear in the registration overview.
Extra guest registration
Can your invitees bring one or more extra guests (+1)? Momice has a fully automated solution for this. Register the extra guest by name, or hand out anonymous extra tickets to your invitees. All details are automatically updated in the registration overview.
Reserve list and maximum capacity
For some events, only a limited number of seats is available. Momice allows you to set a maximum number of registrations. When capacity is reached, you can activate a reserve list. As an organiser, you decide whether you want to fill the empty spots manually or automatically.
Account manager module
You are not always the only person inviting contacts to the event. In some cases you want to give others (account managers) the opportunity to invite their contacts. The account manager module allows you to make others responsible for the invitation process, while you – as organiser – still remain in control of the registrations.
Online events
Fit all your online events and live streams seamlessly into Momice. Facilitate next level online experience and engagement by adding audience interaction and more advanced for online events.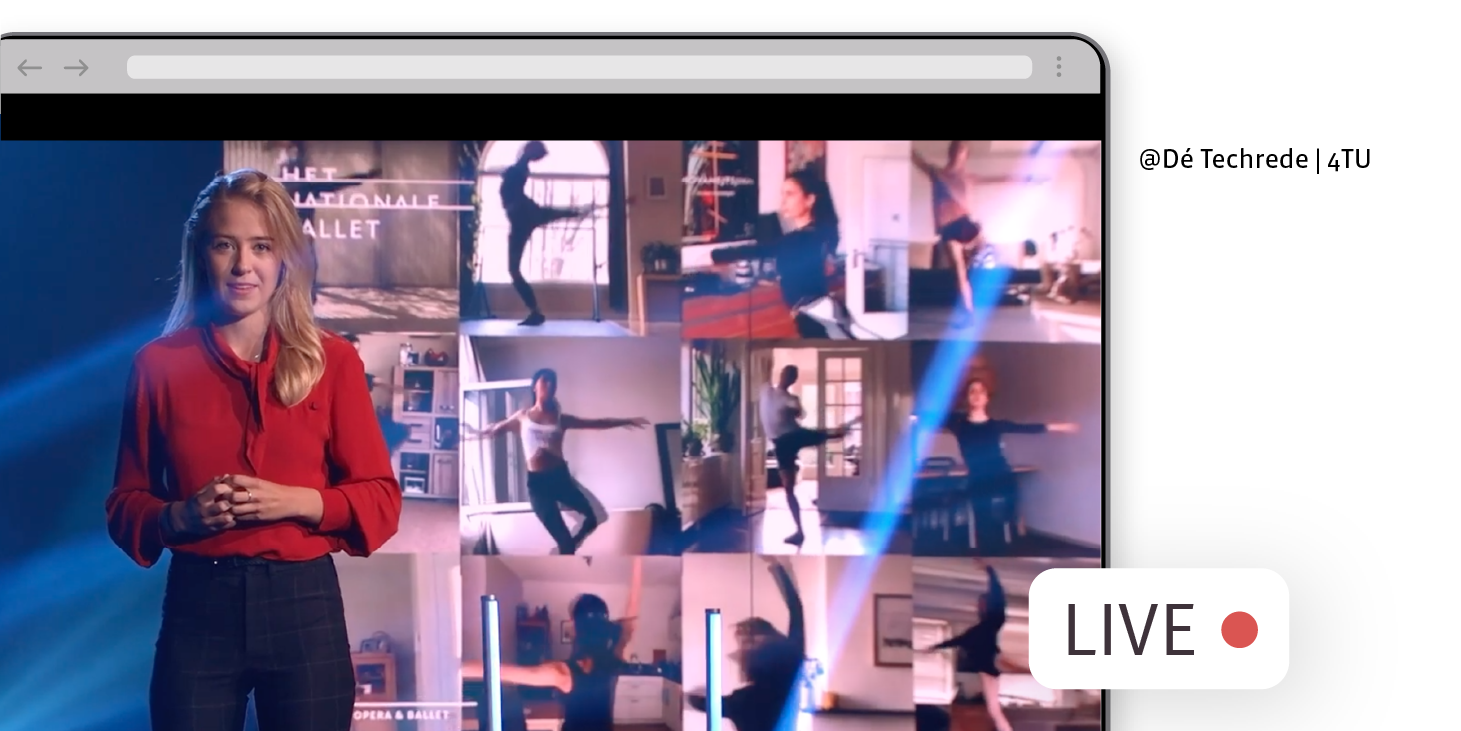 Audience interaction: chat, polls and audience questions
Involve your audience for more engagement during your online event. Use polls and word clouds to discover what is going on among your audience, activate the live chat for vivid discussions and give your audience the opportunity to ask questions directly to the speaker or moderator.
Embed live stream in branded page
You can easily embed your live stream in a fully branded live stream page in the style of your event. Participants can use the personal link from their confirmation email to directly join the live stream. You as an organiser determine if a program element is public or private.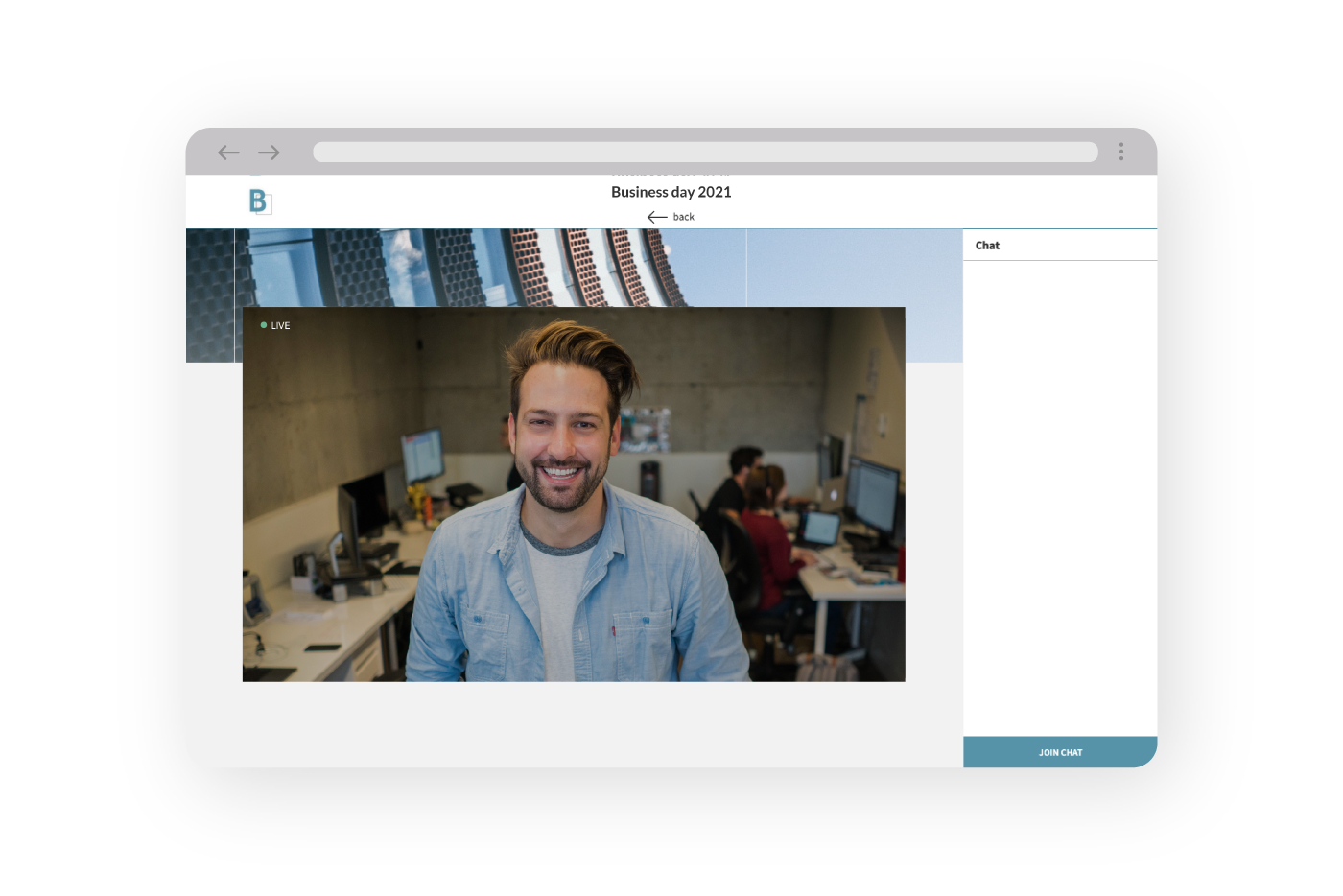 Personal program page
After your invitees sign up for the program elements they want to join by filling out the in the registration form, Momice automatically displays a personal program for each registered contact. Participants will only see the elements they signed up for – and can directly join by clicking on a program element in their personal program.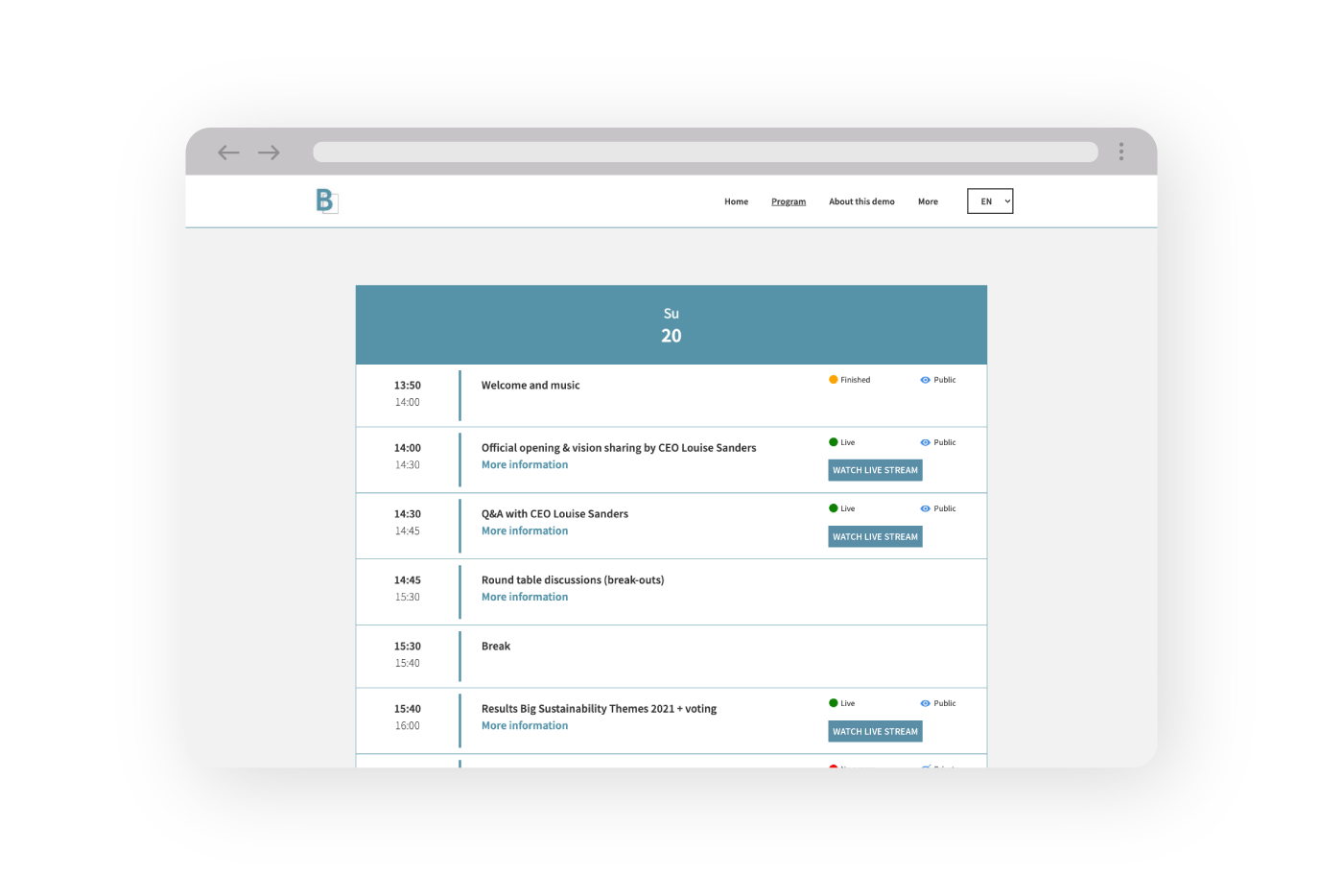 Automatic session guidance
Momice keeps track of the personal program of all participants – and guides them to the next session. This prevents your audience from getting lost in a complex program with multiple break-outs or workshops.
Direct session feedback
Let your audience evaluate the quality of each session by asking them to rate it as soon as the session is over. This helps you find out how the individual program elements performed.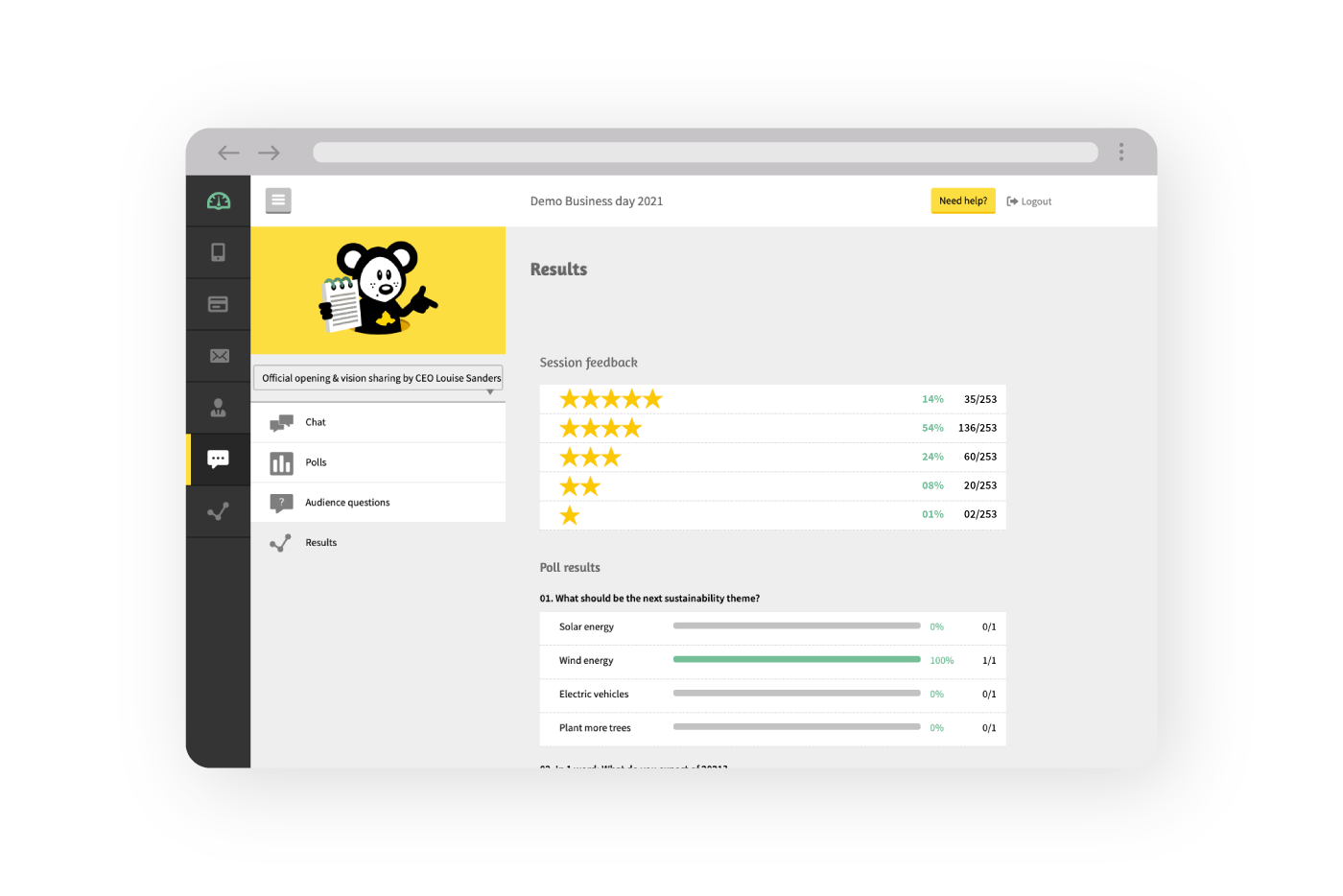 Online audience check-in
The personal program and confirmation mail contain a personal link that gives your participants direct access to the online event. If they use this link to join a session, Momice automatically checks them in. This gives you valuable information about who participated in the live session – and who didn't.
Event email invitations
A professional email invitation increases the number of registrations and results in less no-shows on your event. Use Momice Mail to effortlessly set up the entire invitation process: save-the-date, invitation, confirmation, reminder and thank-you mail. Momice shows the number of registrations, cancellations and non-respondents in 1 overview.
All emails in your own style
With Momice you can create beautiful event email invitations. You can easily design your own template, using a logo, colours, buttons and images. This gives all emails the same professional look & feel.
Specific communication for each target group
Business events often involve multiple target groups, such as partners or VIPS. Momice enables you to address each target group separately in your mailings: import a specific (Excel) list for each group – and send your emails directly to this list.
Measure the performance of your emails
From your 'sent' folder you can view the results of all your mails: open, click and bounce rates.
Event Website
On the event website your visitor finds all information about the event. Create your own responsive website in the style of our event, without any technical knowledge.
Event app shortcut
When your visitors view the website from their mobile device, they can quickly create a shortcut. Now, the event website appears in their app overview. You can upload your own app icon in the software.
Real-time updating
As an organiser, you can log in to change the information on the event website at any moment, so your event information about the programme, speakers and location is always up-to-date.
Communicate in two languages
The event website can be built in two languages. When visitors open the website in their browser, the language of preference is automatically selected.
Password protected
In case your event website contains sensitive information, protect it with a password so only registered users have access.
Mobile designs
To create the ultimate app experience for your visitors, you can choose from various mobile designs and menus.
Page types
Especially for you as event manager we have designed various types of pages. They can be completed easily with your specific information. As organiser you decide which pages you want to show: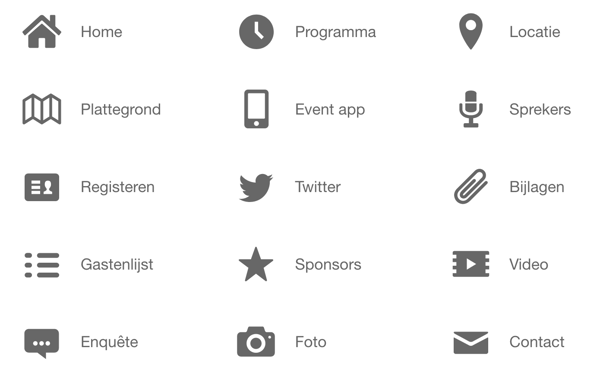 Attendee check-in
Checking in (and out!) the attendees of your event is easy with the Momice Check-in app. Use your smartphone to scan the QR-code on the e-ticket, so you know exactly who is present at your event. Simple and fast, no extra equipment needed.
Registration confirmation & e-ticket
The invitee can register by using the personal link in the invitation mail. When completed, the attendee receives a confirmation mail, including an e-ticket with QR-code. The registration overview is updated automatically.
All attendees in 1 overview
The modules Registration and Mail are connected, so after the event, you know exactly who was present. This enables you to send a thank-you email after the event, including a survey.
The benefits of Momice Check-in app
Real-time overview: attendee check-in and check-out to see exactly who is present, including a check for duplicate check-ins.
Full control: scanning e-tickets is only possible with the Check-in app. The app is password protected, so only your event organisation can check in attendees.
Quick & efficient: use as many scanners as you want. Prevent long waiting lines by facilitating simultaneous attendee check-in.
Completely safe: no databases are stored on the smartphones – all information stays in the cloud, ensuring the privacy of your visitors.
Free of charge: the Momice Check-in app was specifically developed for Momice users. You can download it from the Apple App Store or Google Play Store for free.


Event statistics and reports
Statistics tell you how the event performed. View statistics for each module and easily draw up fine reports, to share the results of the event with your colleagues or management.
Tickets
Keep real-time track of the number distributed tickets, categorise the turnover by type of ticket (eg. Early Bird ticket, Regular ticket or VIP ticket) and view the cumulative result of the number of event tickets sold.
Event website
View the total number of website visits, the use of the website on different devices and the most visited pages at any moment.
Event email
For each mail campaign you can view the exact open and click rate. Bounces and corresponding email addresses are shown in one overview.
Registration
Momice accurately updates how many persons you invited - and how many of them signed in or signed out. Afterwards, you can see exactly how many people were present.
Survey
View the number of respondents, the completion time and percentage. The results are shown in an extensive report, which you can easily export to Excel or a professional PDF.


Easy event evaluation
An online survey is the ultimate way to evaluate your event. With the Momice survey module you build the survey page in the style of your event. The results are visualised in a fine report that can be easily exported PDF or Excel for accurate analyses.
Select your type of question
You can compose the complete survey yourself. In doing so, you can from various question types – Stars, Ratings, Likert Scale, NPS or open questions.
Sync your data
The Survey module automatically syncs with the modules Mail and Registration, so you always have the correct data available.
NPS for visitor enthusiasm
The Net Promoter Score (NPS) a powerful indicator to measure event success. This score shows you the visitors that are most critical, and reveals your biggest fans. The NPS question in the software automatically calculates your NPS score!
Sell your event tickets
Sell tickets to your event directly from the software. Invitees purchase their tickets via the secure Adyen payment platform and the invoice is attached to their confirmation email.
Create specific tickets for various target groups
Offer Early Bird Tickets, Regular Tickets, or free tickets for VIPS, partners any other target audience. Create tickets for specific event components and set the maximum capacity for each individual element.
Design your e-ticket
Customize the design and content of each e-ticket and adjust to the style of your event, by choosing a header, logo and colours. All tickets can be folded into a handy visitor's badge.
Smooth on-site registration
Checking in your customers by scanning their e-ticket gives insight in your event results. For each ticket, you can determine specific check-in time slots to streamline the entry streams, while keeping track of the number of attendees.


Account manager module
You are not always the only person inviting contacts to the event. In some cases you want to give others (account managers) the opportunity to invite their contacts. The account manager module allows you to make others responsible for the invitation process, while you – as organiser – still remain in control of the registrations.
Suitable for larger events
The account manager module is suitable for larger events, like conferences or seminars, where teams or external organisations invite their own contacts.
Organiser advantage:
Outsource the invitation process without losing the overview and control
Real-time insight in number of registrations for each account manager
Possibility to change the number of account managers and available seats at any moment
Fully automated registration process
Account manager advantage:
Send professional invitations to (close) contacts
Personal contact with own relations
Texts and layout invitation provided by the organiser
Possibility of personalising the invitation
Insight in registrations and remaining number of seats
Fully automated registration process
Event app
Momice offers a smart solution: the event web-app. A shortcut to your event website can be placed on the home screen of any smartphone. The shortcut leads to the mobile version of the event website, that looks and works like a 'normal' app, without any additional costs.
All information available
The web app contributes to the total experience and convenience of your visitor. Immediately after registration all information about the event can be found in 1 central location: the event website. Always available, always up-to-date.
Event app vs. event website
Here are all the benefits of a web-app at a glance:
Cost-efficient: No development costs
User-friendly: No installation, no updates, less memory required
Up-to-date: All new information is visible at once, no updates needed
Accessible: Simple shortcut on the home screen of your visitor
Responsive: Suitable for all devices