Event registration
What is event registration?
Keeping track of registrations and cancellations for your event is referred to as the event registration process. Checking in your attendees on the day of the event is called on-site registration.

Event registration is still (too) often not automated - making it a time-consuming job. Especially when you're organising big events (conferences or seminars) with hundreds of invitees, keeping track of who's coming can become complicated. You might end up performing many manual actions. Also for smaller events (partner meetings, product launches, trainings) manual registration can take up more time than necessary.

Many event professionals use a combination of Excel for contact lists, email programs like MailChimp or Outlook for event invitations, Google Forms for the registration form and survey applications like SurveyMonkey for event evaluation. Because this software is not specifically designed for events, and are not mutually linked, there are a lot of restrictions.

Break-out sessions, or multiple target audiences (like VIPs or sponsors) complicate your event registration. Automating the registration process with specific event software helps you keep a clear overview by integrating multiple applications such as email, registration and online survey.
It is smart to design the complete registration process before you start planning the communication flow with your invitees. For example, if you want to send out a 'thank you' or survey to your attendees, you have to be able to check in your attendees on the day of the event. This implies that your guests will need an e-ticket, that can be scanned at the entrance.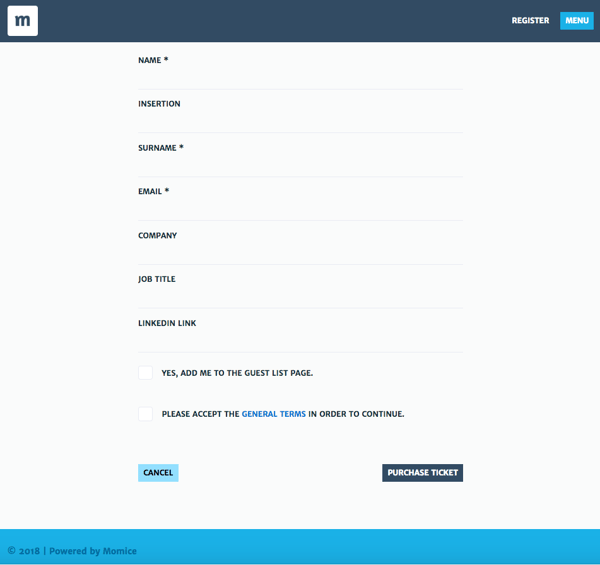 An example of a registration form in Momice.
Before you start creating the registration form, ask yourself the following questions:
Do you want the event to be exclusive for your invitees, or is registration open to anyone?
This decision influences the type of registration, and your invitation.
How many people can you accommodate at your event?
If necessary, communicate the maximum number of registrations or available tickets to your audience.
Can your invitee bring an extra guest (+1)?
Think about your extra guest policy and make sure your software facilitates this process.
Do you offer workshops or break-out sessions with a maximum capacity?
Keep track of your workshop registrations by asking your invitees to pre-select a workshop. If desired, you can add a maximum to each session.
Will you be checking in your attendees on the day of the event?
If you want to scan the e-ticket of your attendees for on-site registration, make sure you include the e-ticket in the registration confirmation.
Walking through these 5 questions will make the set-up of your event registration a whole lot easier!
Event registration is only one element of Event Management Software (EMS). Invitations, update mails, ticket sales, event website and online survey are all part of the communication with your invitees. Therefore, these elements should be included in your event software.
What is on-site registration?
On-site registration is registering who is attending your event, by checking in your attendees: simply scan the barcode or QR-code on their e-tickets. Checking in your attendees gives you real-time insight in who is present - and who is still to be expected.
After the event, this information can be used to send a thank you mail or survey to the attendees. It also enables you to calculate the no-show percentage of your event.
Think about who will be performing your on-site registration partner. Will your organisation take care of this process - or do you prefer to outsource it to an external registration partner? Registration partners can take care of the complete on-site registration process, including the crew at the service desk, name badges and associated software.
All event registrations, cancellations, non-respondents and attendees in one overview.
If you have proper Event Management Software, you can consider doing the on-site registration yourself. This is considerably cheaper – especially if no additional equipment is needed for scanning your attendees' e-tickets.

If the software facilitates this feature, you can use your smartphone to scan the e-tickets. Momice offers a custom Check-in app, that can be downloaded in de Apple App Store and Google Play Store (free of charge).

Pay special attention to your registration desk, in order to prevent long queues. Make sure you set-up your desk as broadly as possible – and provide enough scanning points.

The following formula can be used to calculate the number of scanning point that is needed for your event:
FORMULA: # attendees / # minutes walk-in time = # scanning points
Example 1: 100 attendees / 50 minutes walk-in time = 2 scanning points
Example 2: 250 attendees / 50 minutes walk-in time = 5 scanning points
Registration tools and other B2B tools: an overview
It is smart to choose integrated Event Management Software. But how does this software relate to your familiar applications such as MailChimp and SurveyMonkey? And what is Marketing Automation exactly? And - most importantly - which software suits your organisation best?
Let's start by explaining the term SaaS (Software as a Service), a very common term when it comes to digitalisation. SaaS means that you do not have to buy the software, but you can use it if you buy a licence.

There are many types of B2B software, all with their own abbreviation. Let's be honest - as an event manager of marketer they can be quite confusing. We made you a handy list: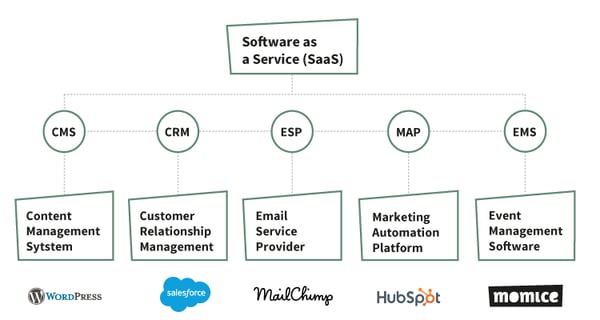 Only event management software (EMS) is specifically developed for organising events.
The trick is to make links between the applications if possible. You need an Application Programming Interface, or API (yet another abbreviation) for this. For example, by connecting your EMS to your CRM (like Salesforce). Because you no longer have to import and export lists, this can save you as an event organiser a lot of time. On top of that, up-to-date contact information is guaranteed!
Which event registration system is best for you?
Once you start searching for 'event management software' in Google, you will run into related systems, such as:
Event registration partners;
Event ticketing software;
On-site registration partners;
Event registration form (and survey tool)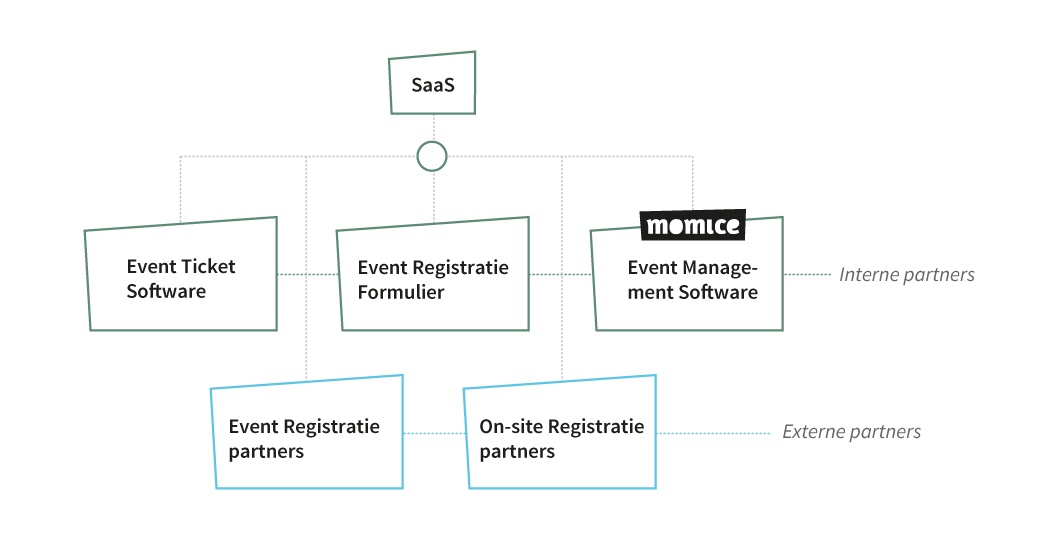 Intern partners have developed software themselves, while extern partners use software of external supplier.
An important question to keep in mind: "Do I want to work with an external supplier, or do I prefer to have my own* software?" In some cases, combinations are possible. Every type of supplier has its own specialty. Read more about the different types of suppliers in this blog.

One of the categories, Event Management Software deserves special attention. This type of software integrates Registration, Mailings, Event Website, Tickets, Survey and Statistics, enabling you to work more efficiently: it saves time and reduces the probability of mistakes.
More criteria for selecting software
In addition to the differences between the different types of suppliers, the following criteria should always be kept in mind.
White label software
Most organisations have clear guidelines for the design of external communication - making it professional, consistent and recognisable. When you are selecting event software, it is important to check if the software is white label. This means the software (event website, email invitations and all communications to your invitees) can be used without displaying the logo of your supplier. Moreover, you can align all elements to your brand guidelines, eg. colours and fonts.
Support and custom solutions
It is nice to be able to take charge of your events and start working with the software independently. However, it is important to know where to go when questions arise. And when you are facing complex registration processes, it can be advised to consult your event software supplier for smart solutions.
Momice offers such a service: Momice Agency – a team of experienced project managers, designers and communication consultants is at your service. No more stress for you as event manager!
Privacy: this is what event profs are dealing with
The new privacy law, in force as of 25 May 2018, influences the activities of event professionals - as a lot of personal data is involved in event organisation. As an event professional, you should assess what personal information you are processing - and whether these processes are safe. Your suppliers are also involved in this: who has access to the data and what are the policies? The GDPR obliges all event managers to close a data processing agreement (DPA) with all your suppliers (eg. on-site registration partners and registration software). This agreement contains arrangements about responsibilities related to the processing of personal data.
Momice has a DPA with all its clients and suppliers.
Keep privacy in mind when composing the registration form - and the corresponding security policy. 'Regular' personal details, require a different level of security than extraordinary data like credit card numbers or medical details.
Be careful when sharing registration lists with colleagues or suppliers - and try to avoid sending documents containing sensitive data by email. If you must use email, make sure the files are password-protected and send the password via SMS. When using event registration software, you able to import the Excel list of contacts or integrate it with your CRM system (Salesforce & Pipedrive).
Event ticketing software
(Too) often, ticket sales for an event is approached as a separate process. Tickets are an important element of event registration – and therefore should be integrated into your event software.

Charging your attendees for their entry tickets becomes more and more common. The time of 'free events' seems to have been (although some events are always free, such as a staff party). Selling tickets brings an extra revenue stream for your event, increases the quality of the program and results in a higher event ROI.

Determining your ticket strategy helps you sell out the tickets to your event quickly. The use of smart software enables you to create multiple entry tickets for the different target audiences like Early Birds or partners/sponsors. Early Bird tickets allow early adopters to secure their tickets for a reduced price - and creating VIP tickets including lunch and dinner generate extra revenue for your event.


Create different type of tickets for various target groups and show how many tickets are still available.
Ticketing software is part of the event registration process. Specific event software integrates ticketing software with attendee registration, email invitations, survey and statistics of your event. This integration enables you to save time, avoid mistakes, keep a clear overview and gain insights into the target audience(s) of your event.
White paper registration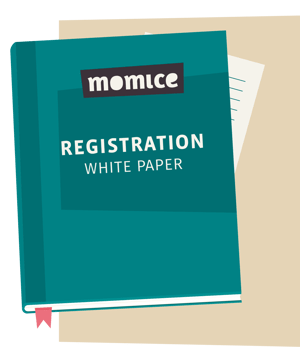 Event registration is just one element of your total 'event communication flow'. Yet it is one of the most discussed topics. Haven't read enough about this topic? Great, because we have a complete white paper for you here.