(Extra) Features & Prices. Compose your own Momice.
A Momice basic license is quite extensive. This page offers en overview of all advanced features for true event pro's, including their prices. Pick and choose to compose your own Momice licence!
Are you curious to see Momice in action, or do you have questions regarding Momice in your organisation? Our colleague Pepijn is happy to show you in a personal demo:
Membership add-ons (price per year)
Membership add-ons are additions to your Momice licentie. These costs are added to your yearly license fee. Please note: add-ons are valid for one year. You have to purchase them each year (or not, if you don't use them).
Custom event domain (wild card)
Momice can install an event domain to your account. You can pick your custom URL (eg. events.yourcompany.com. You can create subdomains for each event (eg. drinks.yourcompany.com). Your wild card enables to create an unlimited number of sub domains. If you only need one sub domain, a custom event URL might be a better fit for you.
Price: €1250,- per year (for all your events)
Custom sender address for all event mailings
All Momice emails are sent from events@momice.com by default. If you prefer your own custom sender address, Momice can install this for you. The sender address could then be changed to eg. info@yourcompany.com.
Price: €600,- per year (for all your events)
Extra guest registration
Can your invitee bring a +1 to the event? You can use the extra guest registration module for this. All extra guests appear in the registration overview, and the registration confirmation is automatically sent to the right person: your invitee, or the extra guest – your call!
Price: €350,- per year (for all your events)
Waiting list
Are you organising a popular event with maximum capacity? Momice offers a waiting list. You set the maximum number of registrations, and when this number is reached, new registrations are automatically placed on the waiting list. In case someone cancels, you as an organiser decide whether you want to fill up the empty spots automatically, or hand picked..
Price: €350,- per year (for all your events)

Interaction module (chat, polls, audience questions)
If you use audience interaction for your (online) events, the Interaction module is just for you! Use chat, polls, word clouds and audience questions to increase audience engagement.
Price: €250,- per year (for all your events)
Extra user
The Momice basic license includes 5 user accounts. If you want to collaborate with more than 5 colleagues, you can add another user account.

Pricing:
- 1 - 5 extra users €550,- per year (per user)
- 6 - 10 extra users €475,- per year (per user)
- 11 - 25 extra users Buy out: €4950,- per year
Event upgrades (price per event)
Event upgrades are non-recurring costs, assigned to a specific event. You can decide for each event if you need this features, because each event is unique. If you want to use an upgrade for more than 3 events, you could consider a Membership add-on. Add-on prices are listed above.
Custom event URL
Do you want a custom URL for a specific event? Momice can create it for you. If you'd rather have a custom event domain for all your event, you can purchase a wild card. Read more.
Price: €250,- (per event)
Custom sender address (1 event)
Would you like a custom sender address for one specific event? Let us know, so Momice can create it. Do you prefer a custom sender address for all events? That's also possible! Read more.
Price: €250,- (per event)

Audience interaction
If you want to make use of chat, polls, word clouds and audience questions on a specific event, you can use Momice audience interaction. Would you like to use it more than once? Maybe the Interaction module is more cost efficient – as it gives you unlimited access to all Momice Online features.
Price: €350,- (per event)
Online Lounge (digital reception)
The Online Lounge is the perfect way to give the online audience to your online or hybrid event a warm welcome. The Online Lounge replaces the home page of your event website on the day of your event, showing the event highlights: program, speakers, guest list, time line and ticker tape for audience messages. All you need to create a digital event buzz.
Price: €950,- (per event)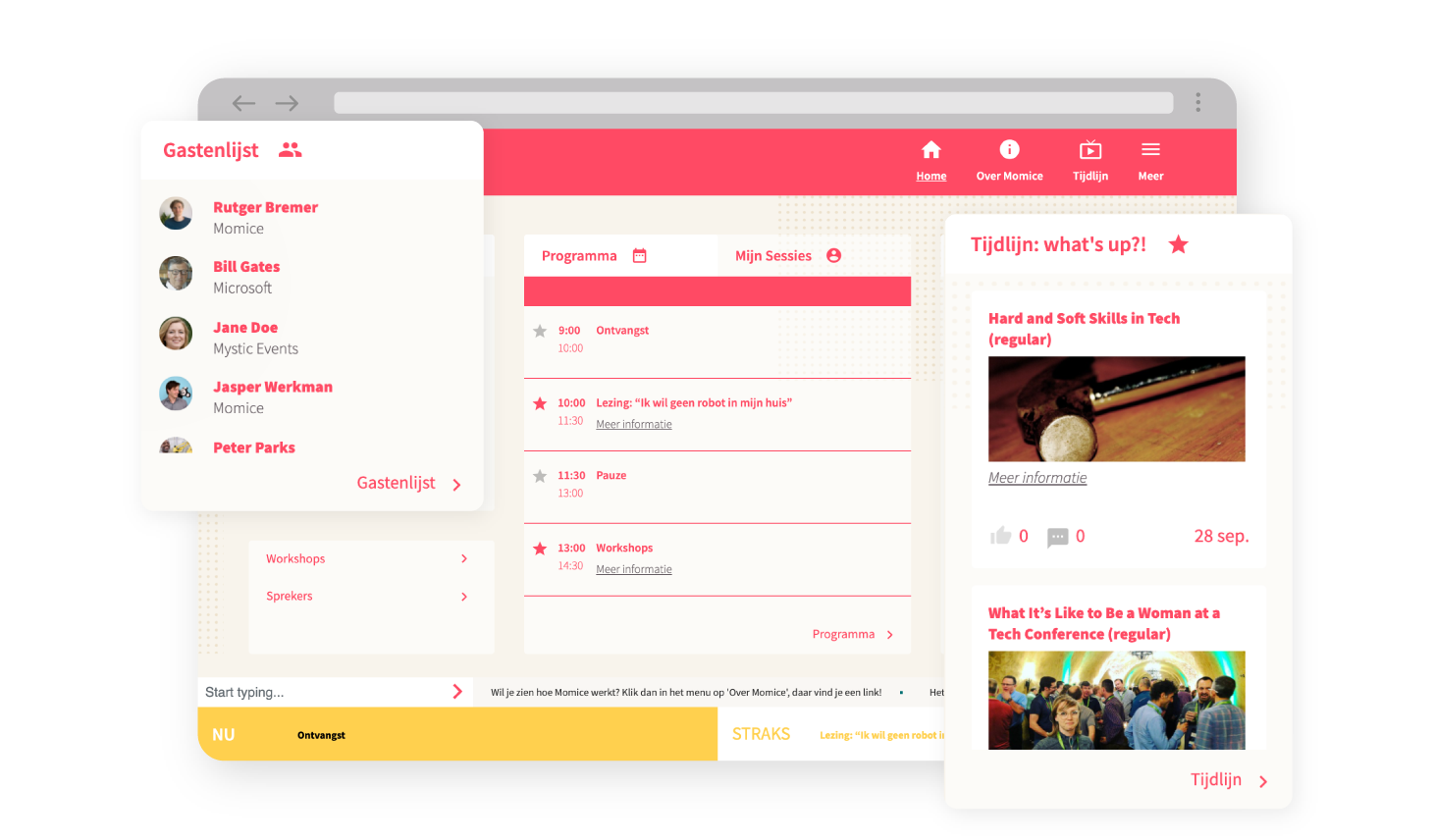 Extras (non-recurring costs)
Extra event credits
Momice basic license contains 3 event credits. If you organise more than three events, you can purchase single event credits.
Prices:
Until 7 extra credits: €360,- (per credit)
7 - 22 extra credits: €335,- (per credit)
Unlimited credits: €7.500 (yearly)
Event ticketing (Ticket module)
Selling tickets to your events? Momice offers a solution for event ticketing. The Adyen payment platform is seamlessly integrated in the registration form, so payments are processed immediately. Activating the Ticket Module costs €500. After that, you only pay a 3% service fee for each transaction.
Price: €500,- (one-off) + 3% service fee for each transaction.


Check-in, badges, lanyards
Checking in your attendees with Momice Check-in is free. Besides this service, Momice offers:
instant badge label printing on-site
custom badge design
label printer rental
complete on-site registration sets (rental)
The possibilities are endless, so we created a special page to list them all:
Design & styling
Account template
An account template is the fastest way to consistency in all in alle event communications. Momice Design Studio will pre-set all elements for your event websites and mailings (colours, fonts, logo's, buttons), so you and your colleagues can all use the same basis for all events.
Price: €1250,- (one-off)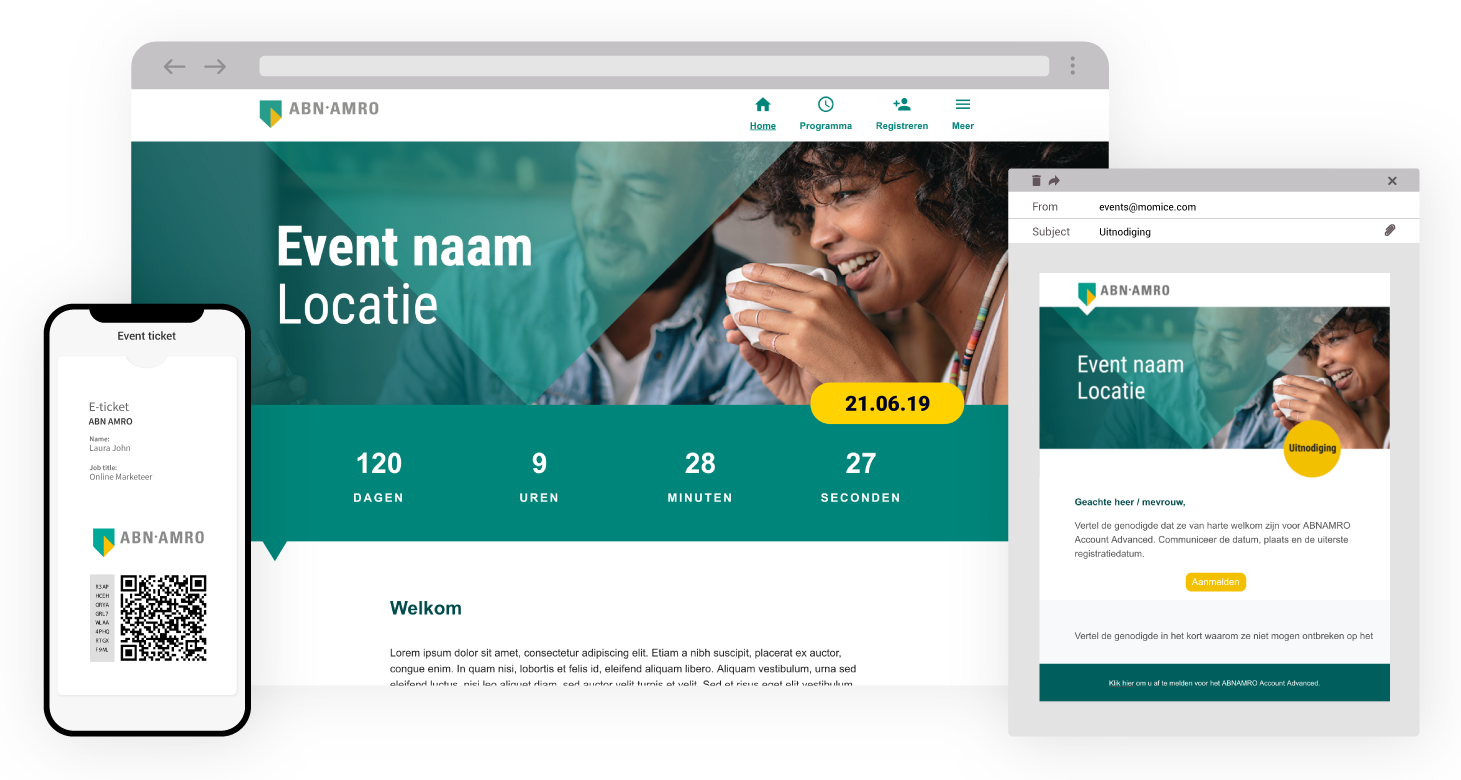 Unique event design
Do you have a special event that deserves extra attention? Momice Design Studio will create it for you. Our designers create a website header, mail headers, images, a custom home page and mobile menu styling.
Price: From €900,- (per event)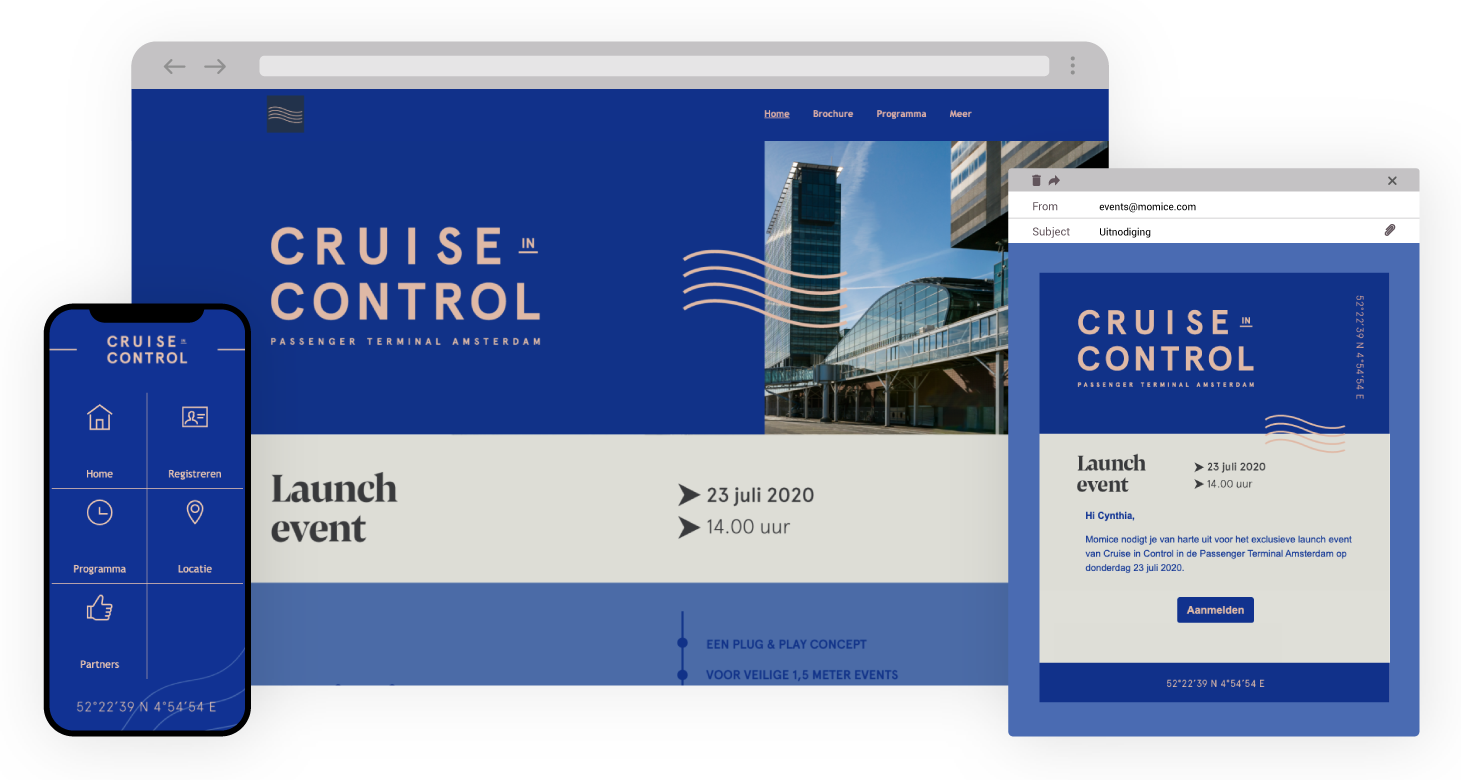 This is in the Momice basic licence
Momice basic license contains all features you need to organise complete event. This is included:
3 event credits
5 user accounts
Registration (until 5000 invitees)
Mailing campaigns (unlimited)
Event website
Branded livestream page for online events
Attendee Check-in (Momice Check-in app, unlimited)
Statistics & reports (event survey)
A Momice basis license starts at €2.295,- per year. Costs for extra credits and advanced features are listed above. In case you have any questions regarding the use of Momice for your organisation, or features that are not listed, please fill out the contact form or send an e-mail to Pepijn.

Additional questions or demo?
Do you have additional questions regarding Momice features? Please let us know: send an e-mail to Pepijn or fill out this contact form.
Are you curious about Momice in action?
These are the options:
Momice in actie zien?
In een korte video van 9 minuten laten we je de belangrijkste features en mogelijkheden van Momice zien.