How to organise an online event or live stream
Online events have never been more popular (or necessary). The corona crisis gives an enormous boost to this market, which is new to many event professionals. Chances are that the ratio between online and offline events has changed forever, as both the B2B and B2C market are adjusting rapidly.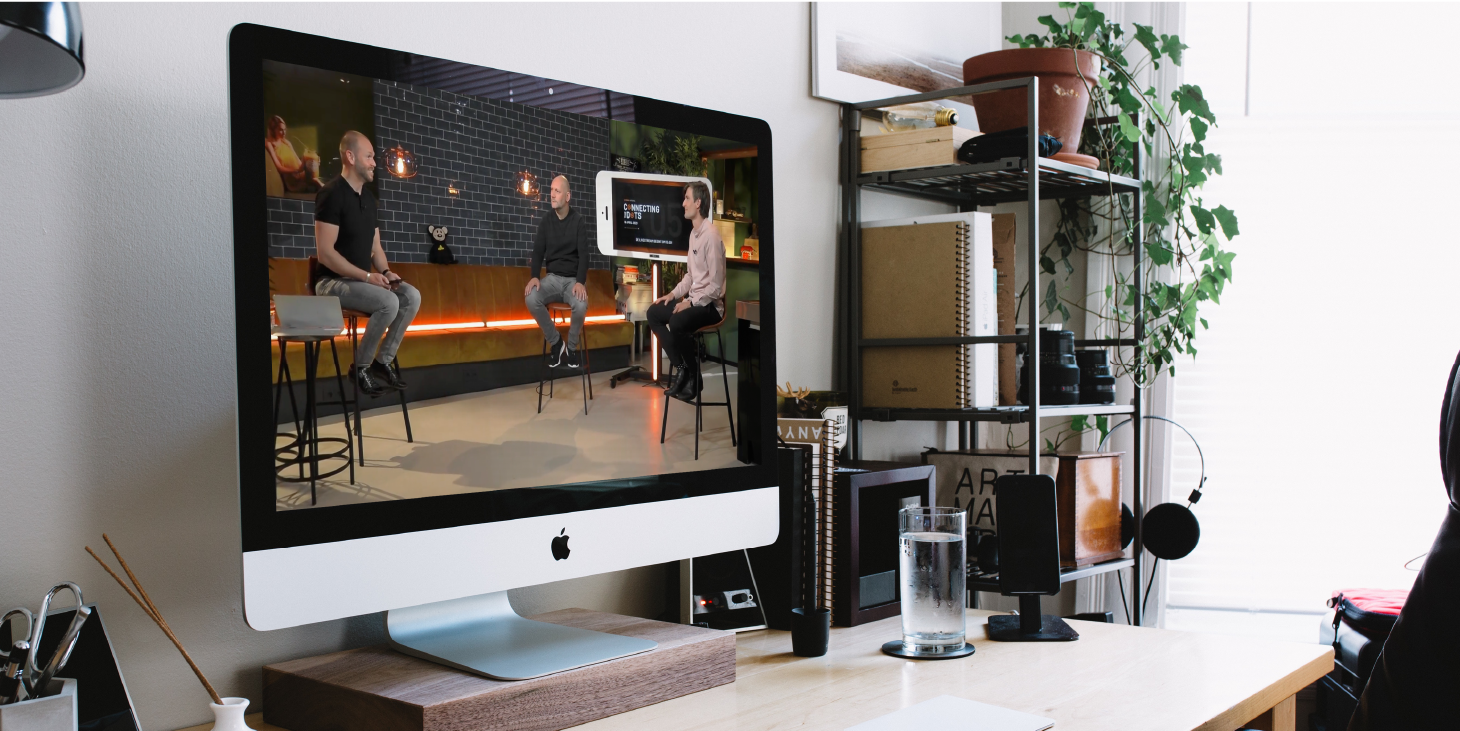 What is live stream?
Live stream is the (online) streaming of content or events in real-time (hence the word live). Applications like YouTube, Instagram and TikTok make live streaming available to anyone, although it requires some effort to select the platform that best suits your needs and (event) objectives.
Live streaming is not easy. In terms of both content and technical production, you have to be confident – because once you are live, there is no way back. Your live stream has to be of added value to your brand or organisation, but primarily for your audience.
On this page, we will use the terms online events and live stream synonymously.
Why online events are a good idea
There are multiple reasons to consider taking your event online:
Large range
The size of your online audience is indefinite, because you are no longer limited by the size of a physical event location. The costs per participant can therefore turn out lower.
Accessibility
The barrier to sign up for online events is lower than for real-life events. Online events tend to be cheaper or even free — and attendees do not have to spend time or money on transportation.
Safety
Nowadays, safety and hygiene are very important when it comes to events. Online events are the safest way to bring your audience together.
Repurposing content
If you play it right, one online event can result in a lot of content (blogs, videos, podcasts, photos etc.), that can be used for many months or even years.
Extra service
If someone is not able to attend your live stream, you can offer the video link as an extra service — so your contact can watch the online event whenever it is convenient.
Criteria for online events
In their white paper 'The power of live video', live stream expert We Are Live mentions 2 criteria that any online should meet, before deciding to live stream:
Urgency
Whether you are watching a press conference or a talk show with prominent guests, the content needs to be relevant to the viewers. They cannot miss out!
Interactivity
In order to make sure your viewers keep watching, you have to create some form of interaction with your audience. Eg. asking questions, taking polls or including a quiz in your online program.
Are you interested in reading white papers about different live stream platforms? Find them here.
Event goal and objectives
There is a reason for organising a live stream. There is a purpose for your organisation. And you want to achieve something with your audience. Make clear what the goal of your online event is and formulate SMART objectives. This is the only way to make a real impact with your event.
Goal: eg. generating leads or managing relations

Objectives: formulated SMART and focused on the target audience

Target audience: including their drives and challenges

Core message: what is the key takeaway for your target audience

Sub-objectives: before, during and after the event
Match your event goals with your marketing goals
Make sure that your (online) event goals feed in on the overall marketing goals of your organisation. How does your online event contribute to the visibility of your company? Smart tips and tricks can be found here: '(Re)Use your online content'
The needs of your target audience
Investigate the needs of your audience, and adjust the content and the format of your online program accordingly. The ambitions and challenges of your audiences should the starting points for your decisions and event concept.


Program
Online programs are different from the programs for real-life events. These are the main differences:
Online events are shorter than offline events. Live stream expert We Are Live states that online events should not be longer than 1,5 hrs. Do you have more content to share? Offer multiple, shorter events or live streams around specific topics.
Time management for online events is even more important than for offline events. Treat your online program like a timetable in your TV guide, and monitor the start and end times very precisely.
Online viewers are easily distracted. Besides competing with other online events, all forms of online activities (working from home, social media and even Netflix) can be a competition to your online event.
Audience interaction is more crucial for online events. The right tools can help you ask and answer questions from the audience. Don't forget to explain how your viewers can participate — and consider involving a moderator that can screen (and answer) the questions.
Offering workshops or sub-sessions can be challenging in an online environment. Challenging, but not impossible. You can divide your attendees in smaller groups for round table discussions, short assignments or brainstormings. Make sure to guide your participants to the sub-sessions and back to the plenary program afterwards, so they don't get lost.
Are you curious about what tools you can use for your online events?
We made you a nice selection!
Chairman, presenter and speakers
The speakers and chairman of your event are no longer facing a live audience, but one or more cameras. They might miss the audience and the energy it brings. And, although a camera might feel distant to the presenter, for the online viewer watching the presenter in close-up, feels more personal than watching a person on stage.
In case of an online event, the chairman becomes a TV presenter. It is important to understand the change in dynamics. Keep the following things in mind:
Not all chairmen have 'screen experience'. It is important that your online host feels comfortable in front of a camera.
Online events are short, leaving little to no room for improvisation. A meticulous schedule is not a luxury — it's a necessity.
Select a presenter that can help speakers get to the core of their message. The attention span of an online audience is shorter.
Pay attention to audience interaction and make sure you have a list of backup questions in case of little activity.
The role of the speaker is also different for online events.
Online talks and presentations should take no longer than 15 - 20 minutes, as opposed to 45 - 60 minutes at an offline event.
Speaking to a camera is different from addressing a hall full of people. So also for speakers, camera experience is preferred.
The format should be in line with the message or presentation. Choose a webinar, interview or short talk, depending on the message the speaker wants to get across.
Use the expertise of the speaker in your communication before the event, during the event and after the event.
Live stream tools
There are many ways to set up your live stream – from very basic to a professional production. Your choice depends on the budget, the goal and the complexity of the event.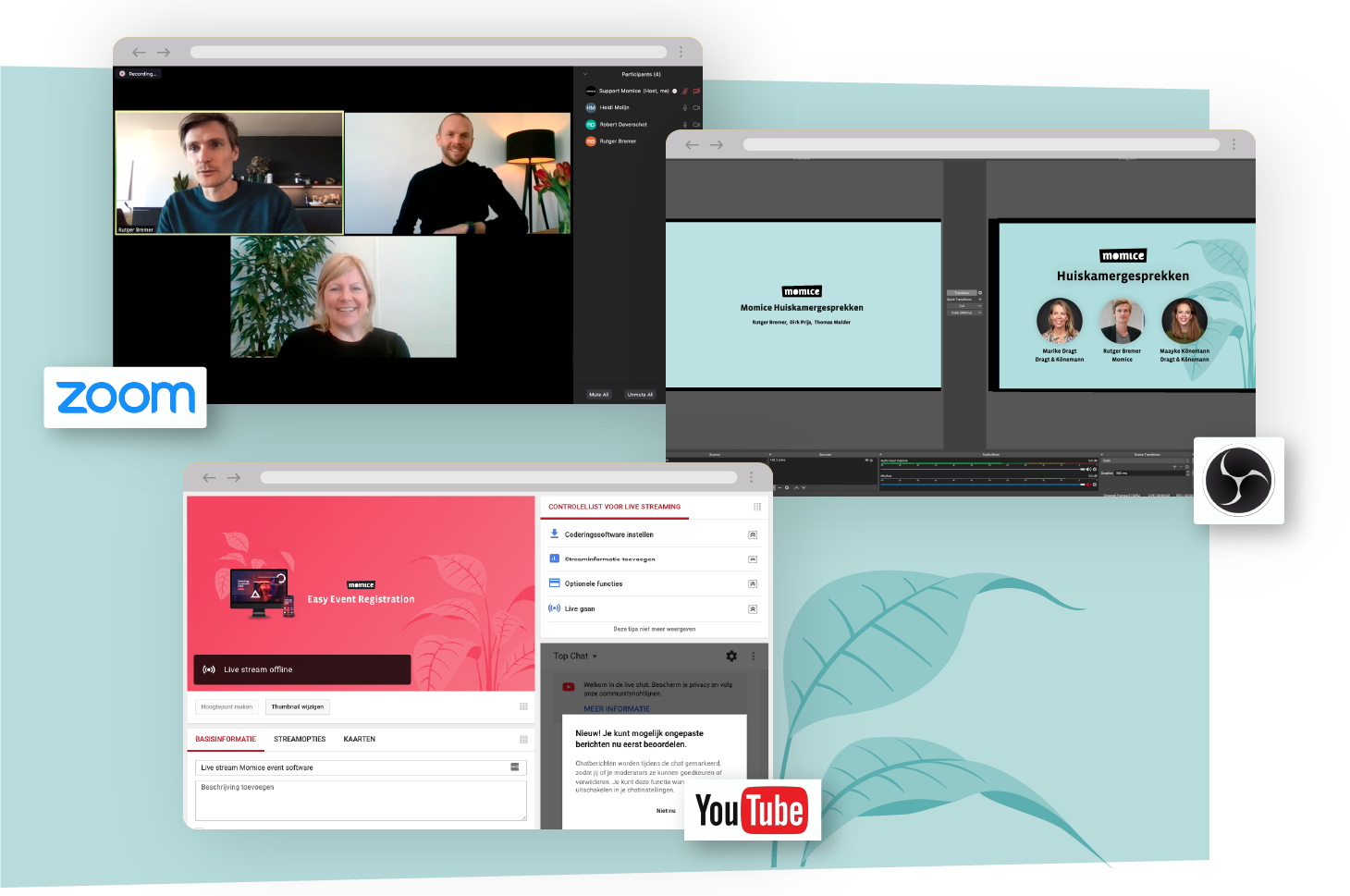 4 categories of tooling
Roughly, live stream tools and platforms can be divided into 4 categories.
All-in-one platforms like YouTube, Instagram or Facebook. These channels enable you to directly broadcast your live stream or record and upload it later. Because you use the sound and camera of your computer or smartphone, you can go live in no-time.
Conference tools like Zoom. Here, you can record your live stream and later broadcast them on one of the platforms as mentioned in category 1. One benefit of using Zoom is that you can display multiple people at the same time – ideal for hosting a talk show or knowledge session with multiple guests.
Encoder (eg. OBS or Wirecast) An encoder is a software program that you use to determine what is displayed on the screen. A director's tool, that helps you switch easily between different cameras, speakers or presentations. You can use an encoder to broadcast from one of the platforms like YouTube, Facebook or Vimeo, or from your own (event) website. Using an encoder enriches the viewer's experience, although mastering it takes some time and effort.
A live stream partner that takes over the directing and broadcasting your online event. Thanks to their professional knowledge and equipment, you can take the experience of your audience to the next level.
E-book: practical tools
We understand that you might feel overwhelmed by all the available tools. To help you find the best tools for your online events, we created a handy e-book.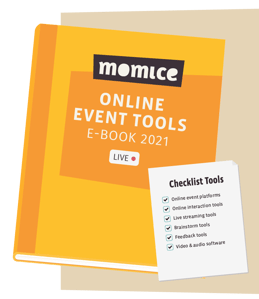 Format
After you decide on the goal, the target audience and the core message of your event, you can select the proper format.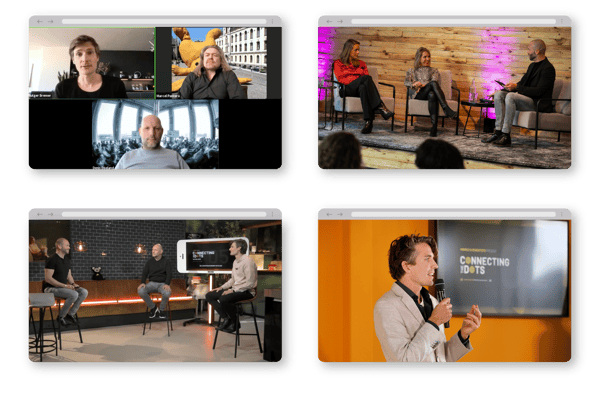 Various formats
Keynote (known from eg. TED): 1 speaker that tells his/her story in a keynote speech. Often, the programme consists of multiple speakers.
Webinar: share new knowledge about a specific topic with your online audience. Use your webcam or build a small studio with an external camera.
News show: a presenter, accompanied by 2 or 3 experts sitting at a desk.
Live broadcast: of a live online event, like a concert, press conference or product launch.
Interview: a presenter interviews one guest about a specific topic or theme.
Talk show: a round table conversation, with multiple table guests, in a studio. Very suitable for audience interaction.
'Living rooms': this is a low-level setting, in which you start a conversation with people from their own location. This format is easily achieved with a conferencing tool, and the webcam and sound of all individual guests.
'Campfire talks', an intimate setting for people to engage in conversation (on the same location). And of course, a real campfire if possible.
This is how Momice did it
Are you curious about how Momice brings these different formats to life? Watch the videos of: (All videos are in Dutch)
Equipment
More than offline events, online events require professional equipment and technical knowledge.
Camera and sound
You want to ensure your viewers can see and hear what's happening on screen. The cameras you use have to be of good quality. Also, using a proper external microphone really pays off — especially if you want to create a podcast of your event.
Decor/studio
Consider what you want to display on the screen. Pay attention to a professional decor, especially if you want to repurpose the content. Match the clothing of the people on the screen to the colours in the setting. Oh and, people are always happy to see some plants.
Lighting
Invest in proper lighting. This might seem over the top, but good lighting really elevates the viewers' experience. Make sure you are able to arrange the lights in the studio and test thoroughly during day time, in both sunny and cloudy weather. keep in mind that lighting is a specific expertise. Consider hiring a professional to help you for your online event.
Direction
In case you make use of multiple cameras, it might be wise to work with an encoder (software that helps you switch between screen sources) and a director. This way, ensure smooth transitions and a professional viewers' experience.
Live stream partner
If you organise an online event for more than 1000 viewers, it may be a good idea to work with a professional partner, like We Are Live. This way, high quality broadcasting, lighting and sound are guaranteed — as well as professional direction.
Audience interaction
Interaction for online events is key. Unlike offline events, there are no collective breaks or network drinks where people can meet speakers or ask questions. There are multiple ways to involve and engage your online audience:
Polls. Let your audience vote on a poll and share the results in a bar chart.
Word cloud. Ask your audience to answer a question in one word. For example: 'What comes to mind when you think of online events?' Visualize the answers in a word cloud.
Audience questions. Let your audience ask questions to the speaker or presenter. The moderator can decide which questions should be answered during the broadcast.
Live chat. The chat enables participants to ask questions to the moderator/organiser and respond to each other. The organiser can use the chat to share additional content or links during the online event.
Tips for audience interaction
Using a tool for interaction does not guarantee the participation of your audience. It is smart to include interaction in your concept and program.
Start with a couple of warm-up questions to make the first contact, and familiarise your viewers with the tool.
Involve a sidekick that can select relevant questions and pass them on to the moderator or presenter.
Prepare a list of back-up questions that you can discuss when the audience does not come up with questions during the live stream.
Include fixed moments for interaction in your program design and the script for your presenter.
Explain clearly how your viewers can (or cannot) participate, and repeat this message throughout the online event.
Share the results of the polls or questions on screen and/or on social media.
Activate a live chat, so your sidekick can answer questions from the audience and share extra information about the topics discussed in the program.
Invitations and registration
For most online B2B events, you are likely to send your contacts a personal invitation. In this case, your live stream should only be accessible to those who signed up. Your registrees will receive a confirmation email including a personal link to access the live stream.
The 'rules' for inviting your audience to online events and offline events are similar. Read all about it in the white paper Mailings and the white paper Registration.
Giving your invitation an elegant design and appealing content pays off. And, depending on the complexity of your online event, it may be smart to set up an event website, containing a registration form and important information about the event.
Promoting your online events
If your live stream is public (ie. anyone can join), you can use social media channels to promote your event. Keep in mind that, also in this case, it is advised to have participants sign up for the event, so you can anticipate the number of viewers and monitor who attended the event.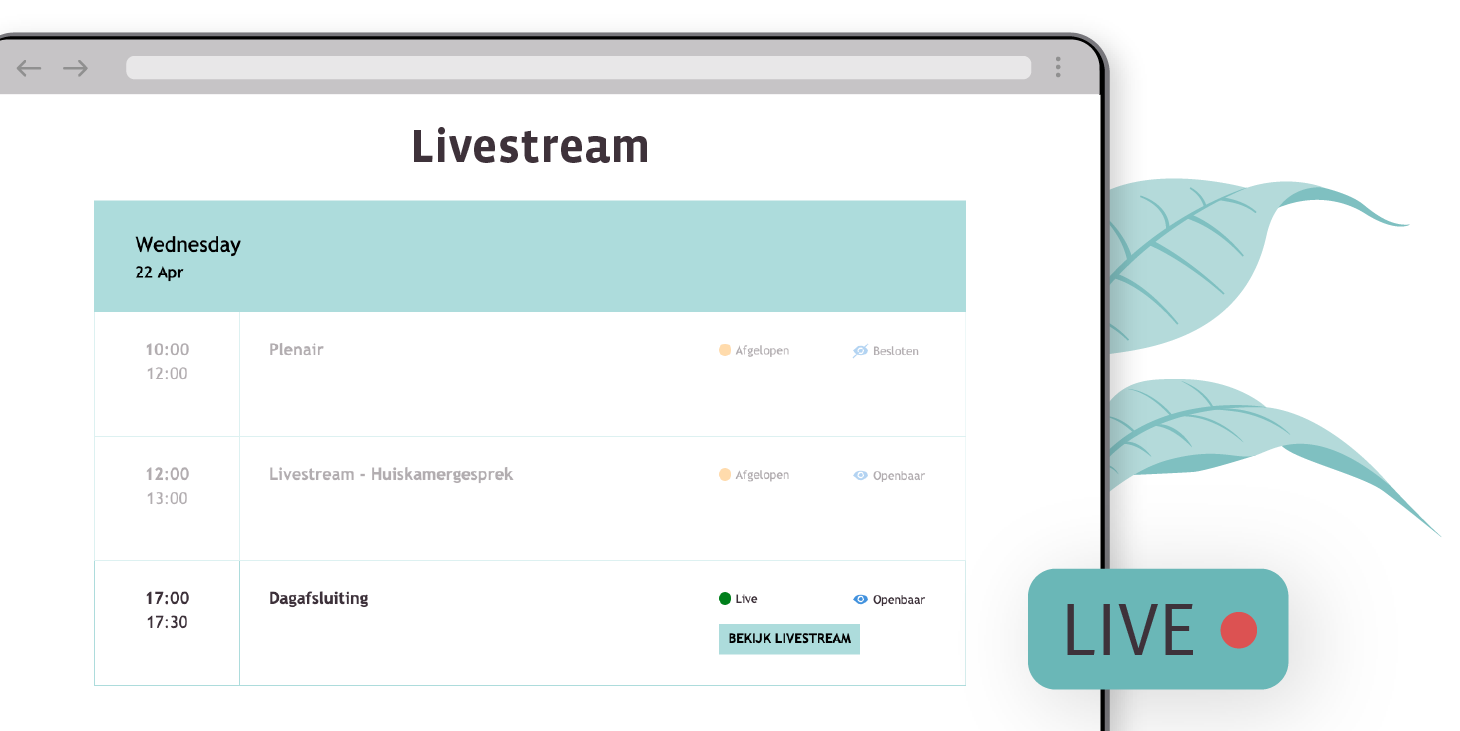 The day of the event
If you want to organise professional live streams, good preparation is crucial. Rehearsals, a program walk-through, camera, sound and software tests… It all has to come together at the very moment of going live. Because once you are live, there's no way back.
Are you ready to go live? Before you hit the button, make sure you checked all the boxes in this Ultimate checklist for live streams
Attendee check-in
Keeping track of registration and participation to your online events leads in a lot of valuable information. This is how you keep track of who's watching:
Make sure all viewers register for your online event
Give the registrees a personal link to view the live stream
The software will keep track of who is attending the live stream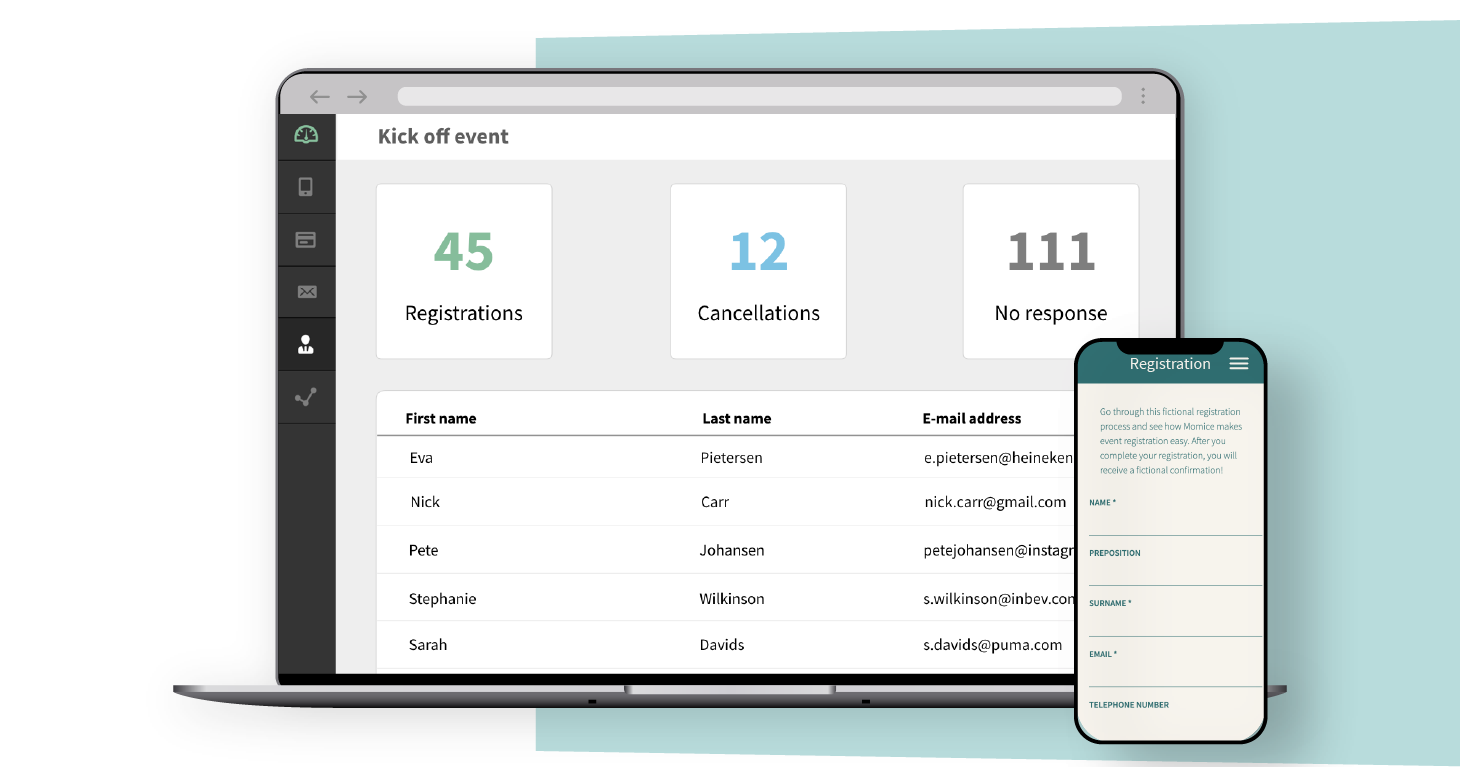 This information will not only help you measure your event results, it also gives you a good reason to reach out to those who missed the event. You can send them the video link later — or share relevant event content.
Viewers' behaviour
The behaviour of your online viewers is also valuable. You can use the number of viewers to evaluate the quality of the program — and use this information to improve the next edition.
But, there's more! You can divide up the program into smaller elements, and assign a unique live stream link to each element. Your contacts can sign up for each program element individually — and attend them via the personal link in their confirmation email. This way, you as an organiser are able to track the areas of interest of your contacts, personalise the (future event) content to strengthen the relationship.
Analysis and evaluation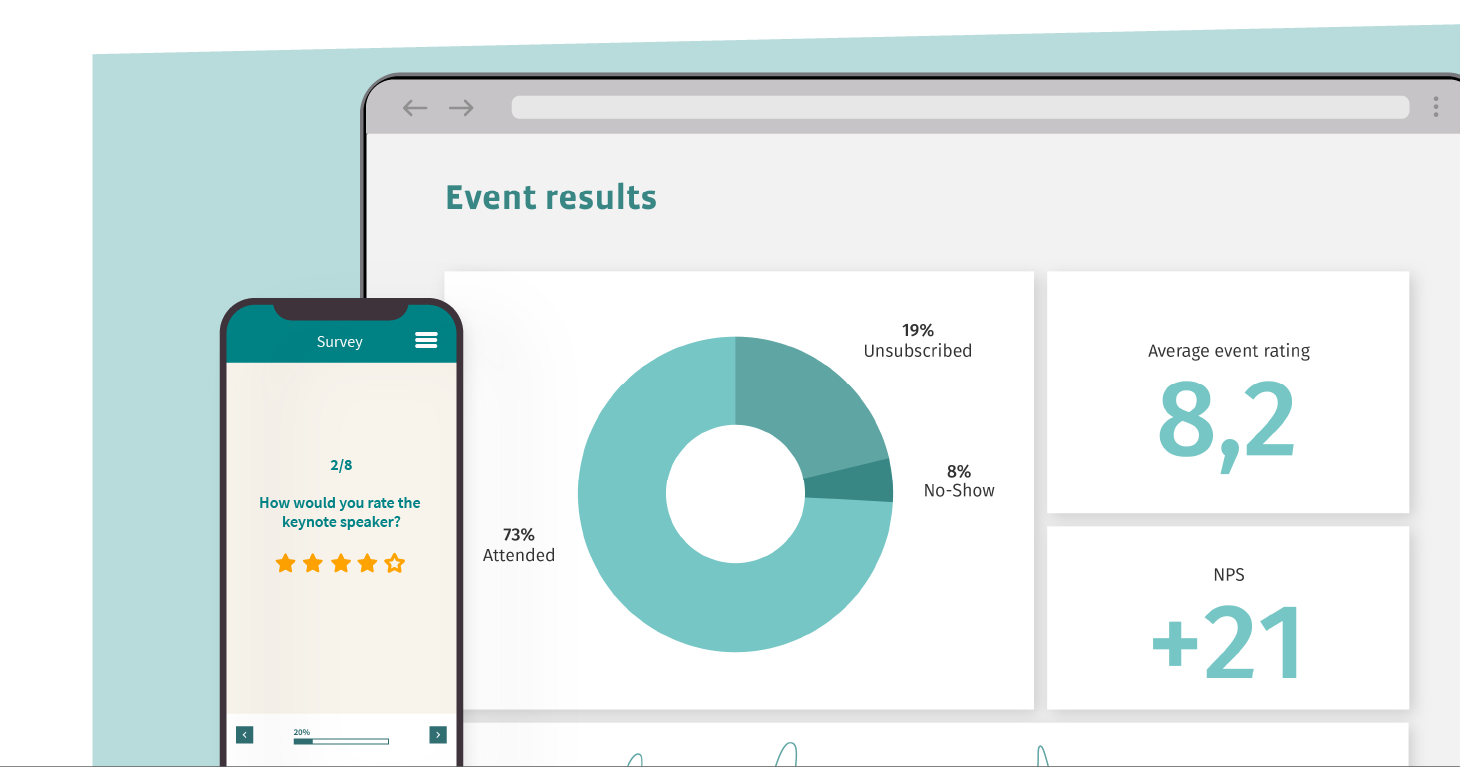 It is important to evaluate the success of your online events. This can only be done, if you come up with SMART event objectives upfront. You can use various sources to measure your event results:
Ask your audience for direct feedback after each (sub)session. A simple star rating gives you insights.
If you check-in your online viewers, you can send an event survey to the attendees, after the event.
The live stream software gives you data about the viewers' behaviour. If you divide your program into smaller elements, you can evaluate each element individually.
Your event software gives insight in the event statistics: number of registrations, no-show, views of your event website and open and click rates of event mailings all reveal information about your audience behaviour and interests.
Smart (re)use of your online content
There are many ways to use and reuse the content of your online event. Of course, you can offer the complete live stream after the event. But digital content is especially suitable for multiple different channels — before, during and after the event.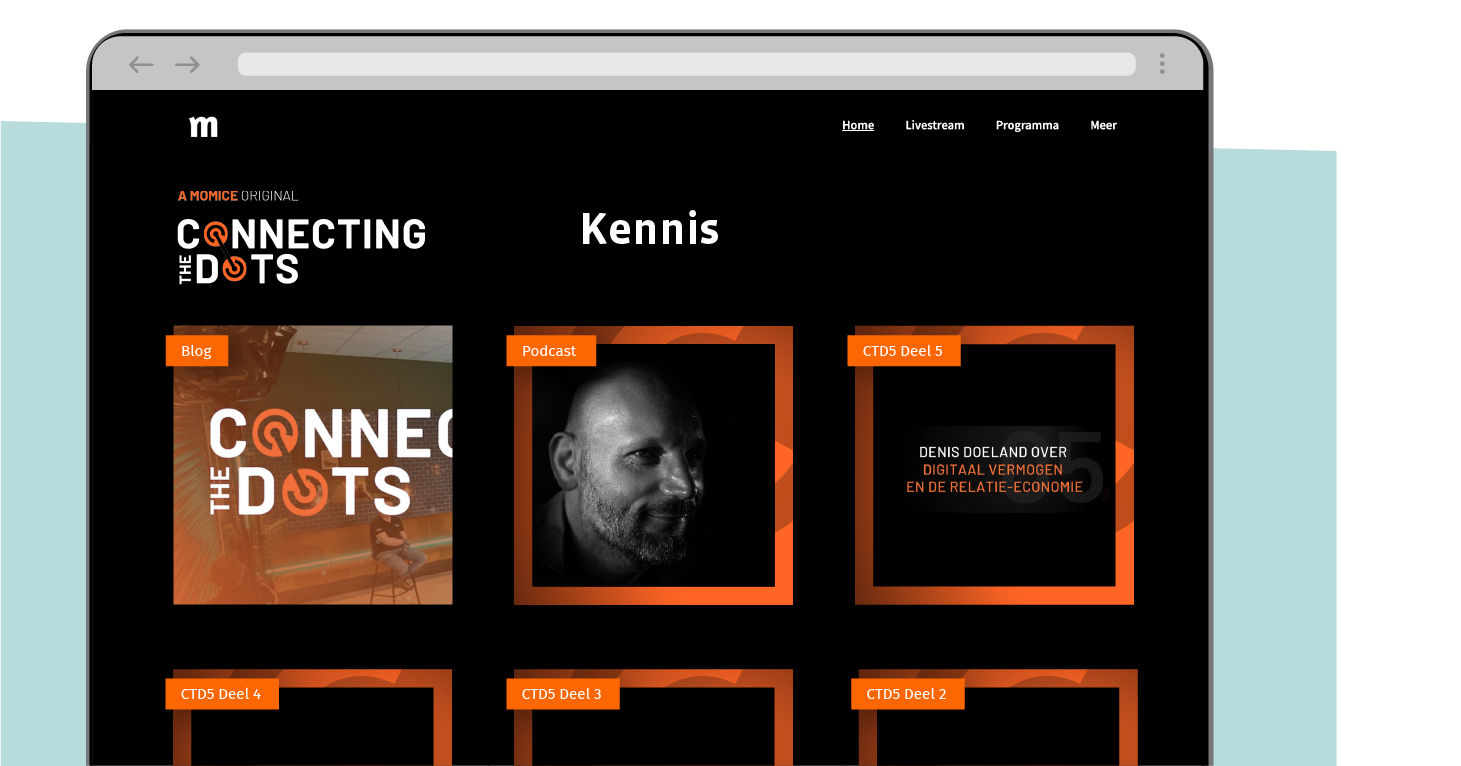 Before
Write one or more blogs about the event theme
Ask your fanbase for input on the programme
Interview the speaker(s) or experts of your event
Announce new programme elements, speakers or other event info
Approach clients and leads personally to invite them to the event
During event
Broadcast the live stream on your own (event) website or video channel
Share interesting insights and pretty pictures directly on social media
Facilitate live interaction with a live chat and audience questions
After event
Make a podcast of your live stream
Share 'snippets' (little fragments or quotes) from your event on social media
Write one or more blogs about interesting event content
Share the keynotes on your event website
Use photos or stills from the live stream as visuals for your communication channels
Hands-on tips
It is wise to think about how you want to repurpose the content of your event upfront. Here are some hands-on tips:
Think about the fragments or elements that might be suitable for the various channels, when deciding on the format.
Come up with a nice setting if you want to share screenshots, stills or photos on (social) media.
Are you considering to make a podcast? Make sure the sound is excellent.
It is advised to align your action points with the marketing plan of your organisation. Do you need help in creating your (digital) marketing plan? Our partner NXTLI can help you with this.
Partners
Momice likes to work together with qualified players from the online industry. Over the past few months, we have developed a sustainable partnership with the following organizations:

- We Are Live: Livestream / format / equipment
- NXTLI: Marketing, content strategy: Digital first.
- Sprekershuys: Presenters, hosts
- Sendsteps: Interaction tools