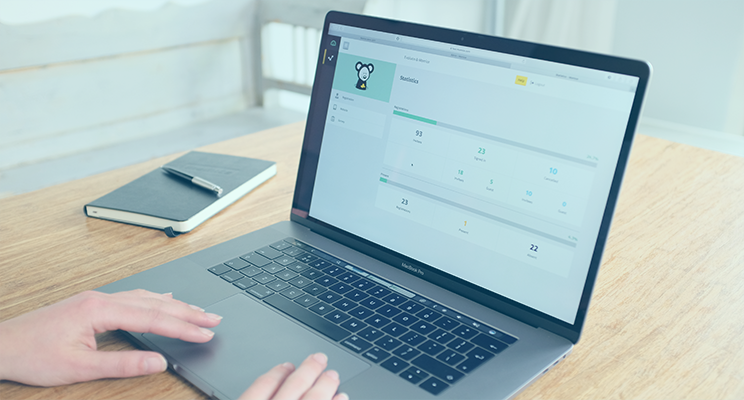 How to solve the biggest problems with Onsite Registration
Finally, your event is there! You have been planning this day for months - and you want everything to be perfect. The first big element of the day is the onsite registration: checking in your attendees when they arrive. But be aware: long waiting lines are the worst 1st impression you can make on your attendees. How to avoid the biggest obstacles?
Gain insights with event check in
Checking in your visitors on the day of the event will give you important insights. You know exactly who's present, and who is not. With the actual numbers you can manage the rest of the event concerning room capacity, catering and you are well-informed in case of an emergency. Also, you can use the attendee list to follow-up on those who attended.
Send a "Thank you for attending" email and ask them for feedback with a survey. Their feedback will help you measure your event goals. You can approach the invitees who didn't show up as well. Tell them they were missed and ask them why they decided not to attend the event. These reasons might help you in preparing for your next event.


Plan ahead
The decision of whether or not to check-in your attendees should be made before sending out your invitation: in order to check in your attendees, you need e-tickets, scanning devices and a registration desk. It is important to test the complete process of pre-registration and checking in, if you want to make your onsite registration flawless.
10 Quick tips for perfect onsite registration
Momice offers a cost-efficient solution to check in attendees at your event: you check in attendees with an e-ticket, a QR-code and a smartphone. Simple and fast, without extra equipment required. With these 10 tips, you create a smooth event check in process for you and your attendee:
Tip 1:

Create a simple flow: minimize the number of actions per guest, or have multiple people perform similar actions simultaneously.




Tip 2:

Test every step of the registration process in advance, so you won't experience any surprises.




Tip 3:

Provide sufficient scan points to make the event check in as smooth as possible. In our

white paper

'Registration' you find a formula for calculating the right number of scanning points.




Tip 4:

Always set up the scanning points at the registration desk as widely as possible, so you can check in more than 1 guest at a time.




Tip 5:

Not all attendees have their e-ticket on hand: make sure you have a computer (with internet connection) ready for manually checking in guest without tickets.




Tip 6:

Use an event check-in app that reads QR codes which is fast and free of advertisements.*




Tip 7:

Make sure the location has a stable internet connection.




Tip 8:

Use fully charged smartphones for scanning - and keep chargers at hand.




Tip 9:

Reduce waiting time: accelerate the event check in process by alerting the attendees in the queue to keep their e-tickets ready.




Tip 10: If you use name badges, decide if you want to print badges before or during the event. Be aware that on-site printing is expensive and time-consuming. Consider having a printer ready for unexpected guests.
Conclusion
Checking in attendees is a must, if you want to gain valuable insights about your event. Planning ahead helps you make sure the onsite registration process will be flawless. In order to avoid queues, try to make the process as simple and smooth as possible. With these 10 tips, you make sure all your attendees start your program on time - with a smile.
Update: Android has an

integrated

QR reader. Purchase a paid version if you have an iPhone with iOS 10 or previous versions.

They should cost no more than 2 euros. The latest version iOS 11 of Apple's mobile system software became available on September 19

: a QR scanner is now built into iOS by default. According to

The Verge

: "

Finally, no more bothering with 3rd

party apps once a year when you need to scan a QR code".